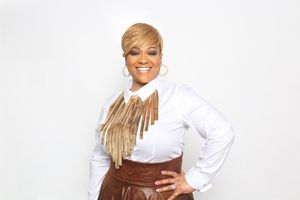 B R I D G E T T E    H U R T
B I O G R A P H Y 
Bridgette Hurt, formerly known as Bridgette Campbell, possesses an extraordinary gift that ministers to every individual who hears her sing.  Known internationally for her electrifying and soulful voice, she instantly captivates the hearts of her audience through her charisma and spiritual integrity.  Her gift has enabled her to share the stage with many Gospel greats!
Bridgette is the youngest of four siblings.  The daughter of a Pastor and Evangelist, her musical career began in church at the tender age of three. Bridgette continued to mesmerize audiences through elementary and high school, receiving many accolades for her stellar performances.   
Bridgette's uncompromising faith and musical reputation has opened many doors.  At 15, she was lead singer with the Grammy-Award winning gospel choir Ricky Dillard & the New Generation Chorale.    
Bridgette has toured with Stellar Award winner Marvin Sapp, and gospel duo Dawkins & Dawkins.  For two years, Bridgette toured as a member of Fred Hammond's Radicals for Christ.  Her single "Yeah Yeah" is featured on Fred Hammond's compilation album, In Case You Missed It. Bridgette performed in three theatrical productions; most recently she starred as "CoCo" in the sold-out play Been There, Done That, starring Judge Greg Mathis, Fred Hammond and movie star Phyllis Yvonne Stickney.     
In 2002, Bridgette toured Europe singing background for gospel legend, the late, Jesse Dixon and others. 
In 2003, Bridgette released her first solo project titled "Bridgette" on her very own Independent Label "From the Heart Records". Bridgette's faith, perseverance, and accomplishments caught the attention of A&R specialist Kendall Duffie of Light Records. Chicago's Bridgette Campbell came to life when Light Records picked up her Independent project, renamed it BEEN GOOD and released it on June 29, 2004.
In 2009, Bridgette set a goal and met it with a "Live" Recording in October of 2009. 2010 is the year of blessings for Bridgette! She has a new project "Give You Thanks" released on February 19, 2010!  
Since 2004, Bridgette has been blessed to tour Italy for several years, singing praises to God under the management of Southside Entertainment/Italy.
In 2013, Bridgette joined The Lighthouse Church of All Nations, and became a part of the music department. She served faithfully as an assistant to the minister of music and a worship leader.
In 2014, while Bridgette was touring in Switzerland. God spoke to her concerning healing, uplifting and encouraging women. During her private time with God, the idea/vision of a Women's Conference was birthed. Bridgette has experienced many ups and downs through this journey called life. During this journey Bridgette had taken on a lot of hurt and disappointment, through church and in her personal life, as well. She realized that deliverance had to take place, and she needed to be "Stripped" of everything in her that was not of God. Thus, the name of her 1st Women's Conference was titled "Stripped"!! This was out of Bridgette's comfort zone, but she knew God was speaking to her!! And in July 2015, Bridgette started her annual Women's Conference, "Stripped"!!
On July 16, 2016, at the conclusion of her 2nd Conference, Bridgette was proposed to by her King, Mr. Bryan Hurt Sr. After God stripped Bridgette of the baggage she carried around, God sent her a blessing!! They were united in Holy Matrimony on August 31, 2016!! To God be the glory for the things He has done!! Mr. & Mrs. Hurt work very closely in ministry. They founded BPowerful Ministries Inc. NFP, in 2017. You can hear them every Monday from 6 pm – 7 pm CST on www.tabernacleradio.org as they host their very own show, Hang'n With the Hurts!!    
Bridgette has earned the enduring respect of many. She now resides in Illinois with her loving husband. Bridgette's ministry will revolutionize the world, transforming the lost by leading them to Christ.  Bridgette is available for Conferences, Workshops, and Worship Services. As an inspirational vocalist and visionary, Bridgette will continue to influence a spiritually thirsty audience, bringing them closer to everlasting life.
In 2018, Bridgette was elevated to the office of Minister of Music of The Lighthouse Church of All Nations where she continues serve faithfully, leading the music ministry to higher levels in God!!!
In 2019, Bridgette joined forces with Grammy Award Winner, Kevin Bond. After a 10-year hiatus, Bridgette released a hit single. The hit single is a remake of Gospel Classic, "My Liberty"!! It's available on all digital outlets!!!
For Bookings: BookBridgetteHurt@gmail.com
Previous events
The Industry Sanctuary Conference
35th Annual Stellar Awards
Live concert!!!! Featuring Fred Hammond, Bridgette Hurt & Dee Wilson!!